Ju Duoqi takes pictures of vegetable sculptures composed of cabbage, potatoes, carrots, radishes, cucumbers, pumpkins, onions, ginger, garlic, chives, lotus roots, cauliflower, and sweet potatoes. In these collages, she replicates world-famous paintings and traditional Chinese images. Ju's cleverness and creativity is truly amazing. How did this former cartoonist become inspired to construct this legendary "Kingdom of Vegetables?"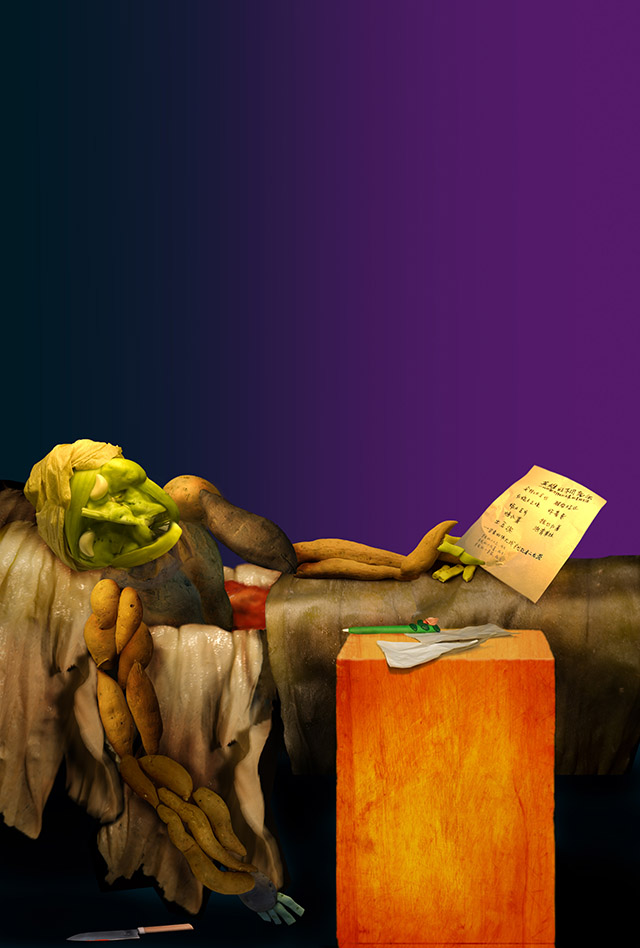 Date: 2008
Medium: C-Print
Edition: (1) 6 (2) 12
Fantasies in Chinese Cabbage
Date: 2010
Medium: C-Print
Dimensions: (1) 150x120cm (2) 100x80cm
Edition: (1) 5 (2) 7
Artist's Bio
Ju Duoqi (b. 1973, Chongqing, China)
1996 Graduated from Sichuan Fine Arts Institute
Worked as a website and computer game designer
2005 Became an independent artist

Solo Exhibitions
2011 "Ju Duoqi's Vegetable Romance," MR Gallery, Beijing, China
2008 "The Vegetable Museum," Galerie Paris-Beijing, Beijing, China
2007 "Hi, Ju Duoqi!" Must Be Gallery, Beijing, China

Group Exhibitions
2014 "Nanjing International Exhibition," Nanjing, China
The First Qingdao Biennale, Qingdao, China
Guizhou Photography Festival, Guiyang, China
2013 "Openspace Bae Residency Show," Busan, South Korea
Xishuangbanna International Photography Festival,
Xishuangbanna, China
2012 Haiyang Art Museum, Yantai, China
2011 Photo LA, Los Angeles, USA
2010 Brighton Photo Biennale, Brighton, UK
Art Basel Miami, Miami, USA
"Loca: Contemporary Art Show," Xiamen, China
"Beyond Dazzle," MoCA, Shanghai, China
2009 "Dialogues," Epson Imaging Gallery, Shanghai, China
2008 "Only-Child Generation III," China Visual Art Center, Beijing, China
Shanghai Art Fair 2007, Shanghai, China
"Happy Collider," Back Street Art Factory, Beijing, China
"Labyrinth II: Tonality / Atonality," Contemporary Art
Museum of Asia, Beijing, China
"Critical Mass," Huang Yan Contemporary Art Center, Beijing.
2007 "Made in Beijing: Academic Exhibition," Hong Ik University
Modern Fine Arts Museum, Seoul, South Korea
"Beijing BS1 Contemporary Museum: Nomination
Exhibition," Shanghai and Beijing, China
"Only-Child," Zhu Qizhan Art Museum, Shanghai, China
"COMIC I," Must Be Contemporary Art Center, Beijing, China

Awards
2009 First Prize for Art Creativity, Guizhou Photography Festival,
Zunyi, China

Publications
The Guardian (UK), The Independent (UK), The Sun (UK), Publico (PT), Lemonde.fr (FR), Actuphoto (FR), Courrier International (FR), das Bild (GER), Muy Interessante (SP), The Irish Times (IR), Daily Times (Pakistan), Panorama (IT), Wall Street Journal (US), Yahoo!News, I LOOK (CN), China Daily (CN), O2, Chip Foto-Video Digital, Photographers Companion, China Photo, Life Week, and Xinhua News.